Frequently asked questions (FAQ) and Tips for choosing casters.
1. How do you know if the caster is our genuine product (Whitehorse Superwheel) ?
There are few tips to spot if it is real or not:
Tip #1 : Genuine caster should have this sticker (as shown below) written "WHITE HORSE SUPER WHEEL" on the dark brown background.
---
More details: What does the genuine sticker look like?
---
Tip #2 :  Embossed horse logo on the head of the screw.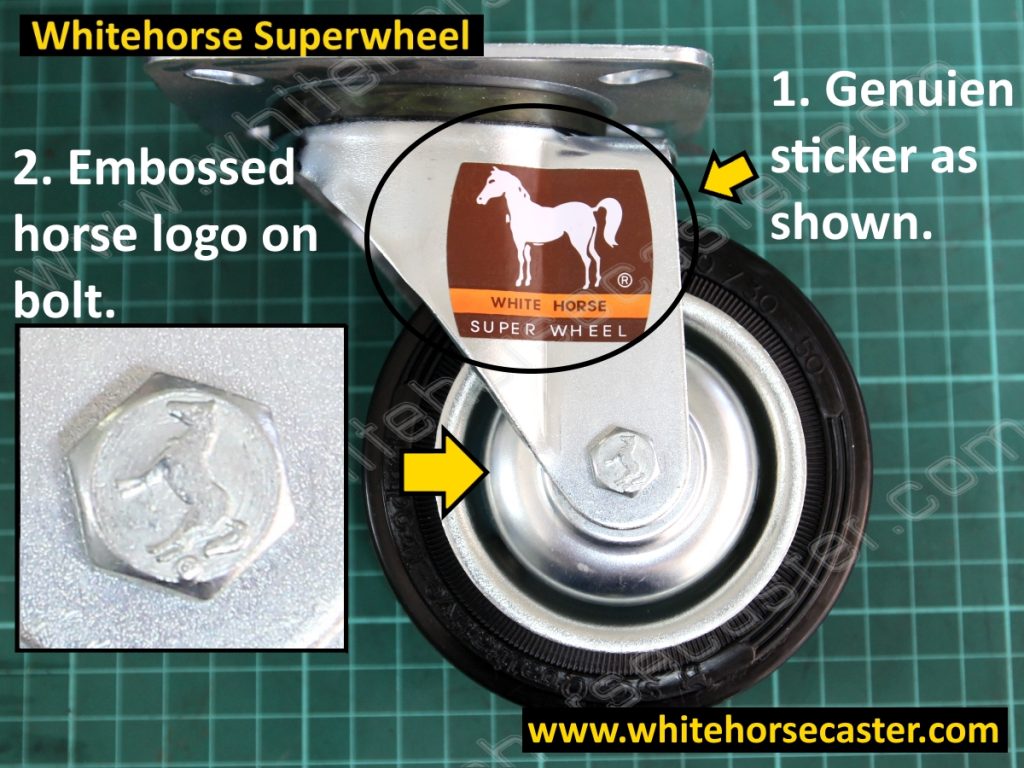 Tip #3 : Horse logo and sentences written "SC. Qualitative Product" on each rubber wheel.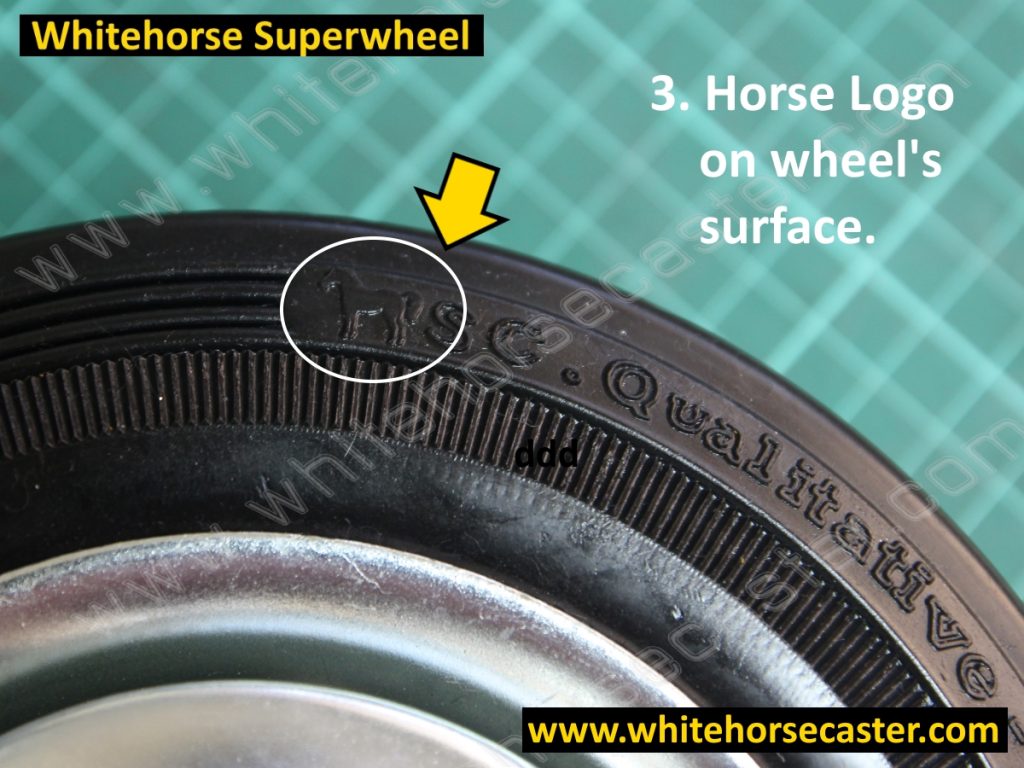 Tip #4 : Horse logo stampped onto the caster's bracket.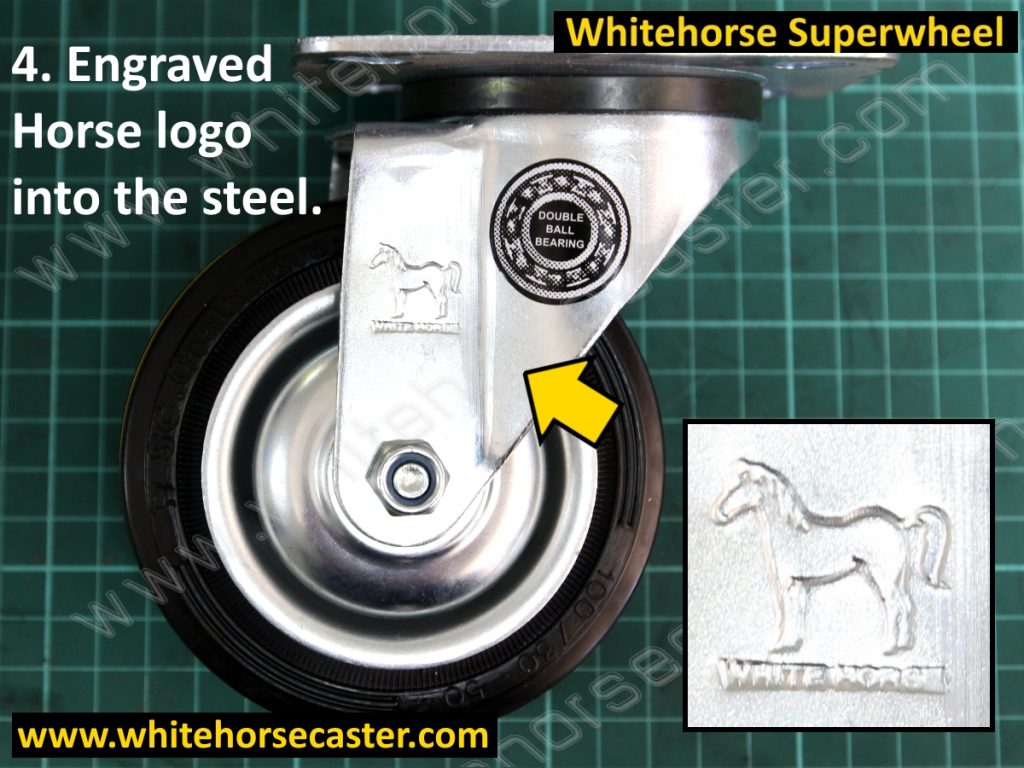 2. What about packaging?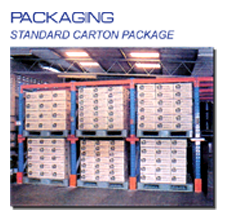 "WHITEHORSE SUPERWHEEL" casters are high quality casters because of strictly monitored procedure in every step. Therefore packaging procedure is also our priority that we have high standard for our customer.
With our triple-wall corrugated board packaging, your casters are firmly protected from impact and moisture while being shipped to you. The packaging is strong enough to be stacked on top of each other multiple times.
Package info: 12 casters per carton for 3 – 5″ inch size; 6 casters per carton for 6 – 8″ size.
3. For what purpose should each type of caster be suitable to use?
S-Series or 'Standard Series' are great for general purposes, can be use extensively. For example, hotel luggage trolley, shopping cart, other trolleys and carts mainly use in generally dry area.
SE-Series, aka Special edition series,are upgraded version from S series with overall improvement. For instances, the wider wheel is engineered to be able to traverse smoother and even more silent. The disc wheel is made from industrial-graded plastic. Combining with epoxy-coated bracket these casters are considered splash-proof. They get rusty considerably harder than their counterparts from other series.
L-Series are recommended for light work purposes. Its reflecting appearance highlights that they are not very much related to industrial sites but in offices and other in-door environments.
F-Series are "Furniture" series which can be recognised by their overt appearance. Having only 2″ to 3″, they are mostly incorporated into furniture such as office chair. large speaker, saline stand, movable clothes hanger stand.
4. There are so many types of wheel to choose. Which should I consider?
Some casters are suitable for some tasks better than the others as described down below:
1. Natural Rubber (NR)
Natural rubber has its merit of high elasticity. Possessing the ablity to withstand continuous max loading for a long time without permanently dented. Silent and stable pushing, thanks to its double, high quality, bearings inside each trolley wheel.
Comes with 2 colors: Black (normal task) and Grey(for better looking less industrial look). However, this wheel most suits constantly-moving task.
We are currently under updating. Please come back again to see more update information. Thank you very much.