Casters come in many shapes and forms whether one for light duty and another for heavy duty but what is considered to make good or bad casters is what's inside?: 'Sealed Precision Double Ball Bearings'
Extra durable, great loading capacity.

steel ball bearing is more capable in both categories than the ordinary roller bearing.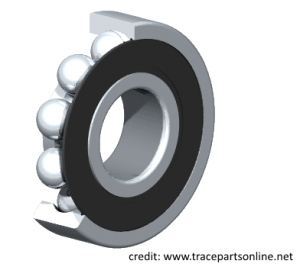 Stable Pushing. No longer will your trolley be unstable when pushing around. This is possible because the bearings (two of them) are firmly secured into the disc wheel of the caster tightly, hence the word 'Precision'. Unlike the plastic roller bearing which is inserted not very firmly into the disc wheel, therefore, it gets loosen over time.
No maintenance required. The lubricant is already sealed inside the bearing itself. Therefore the regular maintenance is not needed like the other casters not using sealed ball bearing. Additionally, casters with sealed ball bearing can be pushed very smoothly, silently as long as its lifetime.
Roll smoothest and push easiest kind of caster. Of all the bearings, ball bearing is the one with least friction when pushing. Your task will become quicker, easier and safer. 
Written by: S.C. Rubber & Machinery Part., Ltd. Date of publishing 1st Apr. 2015.
---
Our S series casters (RB & PU) are now using Double Ball Bearings. source-> Raising the bar for quality of casters.
For more information -> contact us
Tel: 02-748-5324-6, 02-399-2278
Fax: 02-748-5328
Hotline : 081-8705044 , 081-8020533
Email: info@www.whitehorsecaster.com